Welcome to the Hinode website
---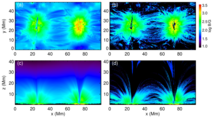 Using a combination of optical, EUV and X-ray instrumentation Hinode is studying the interaction between the Sun's magnetic field and its corona to increase our understanding of the causes of solar variability and the origins of solar activity. Hinode was launched successfully in September 2006.

Included in Hinode's instrumentation is a 0.5m optical telescope (SOT), an EUV imaging spectrometer (EIS) and an X-ray/EUV telescope (XRT). The instruments will work together as an observatory. The EUV imaging spectrometer ( EIS ) was built by a consortium led by Mullard Space Science Laboratory (MSSL).

Hinode is a joint Japan/UK/US mission with ESA and Norwegian involvement.




This website provides the following:
Latest Hinode project news.
Access point for general Hinode documentation, and how scientists will be able to use
the observatory in the future.
Access to detailed EIS documentation.
Access to EIS level-0 data and other higher-level products.
Access point for Hinode education and public outreach activities.
Following a change to the SOT operating mode, a revised telemetry allocation has been agreed by the SWG.
This is described here
---
Last Revised: 30-Nov-2016

Feedback and comments: webmaster