EIS Studies
---
EIS Recommended studies
There are several EIS studies which are recommended by EIS team for use in different target category (for example, Active Region) under the new Hinode data-volume management scheme.

The list of recommended studie currently locates at EIS Wiki's Recommended Studies.

The list will be checked every few months for updates.
Searching for EIS studies
EIS software comes with a powerful tool "eis_filter_studies" to let user search the existing EIS studies by lines, Raster Type, Slit/Slot, spectral window size and Compression scheme. It would be very userful when user starts to choose study for EIS observation poposal or design his/her own study, even to search EIS datasets by study from MSSL Hinode/EIS data archive.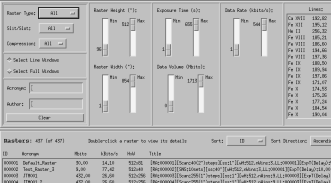 To find out how to use "eis_filter_studies" tool please follow this link:
/eiswiki/Wiki.jsp?page=EIS_study_search_tool

Get helps from EIS team
If you need help finding suitable EIS studies please contact EIS team.
you may find contact infomation at this page.
Full list of available EIS studies
The following table lists all available EIS studies in decreasing order of study ID. Clicking each button on "Study details" column will show more details of the study. Clicking each button on "Associated FITS files" column will lead to data archive page where all EIS FITS files, which generated from the study, are listing for viewing thumbnails and downloading.
Please NOTE:
Old EIS studies (i.e. study ID ≤ 248) are now not recommanded any more due to Hinode S-band antenna restrictions — those studies are marked with background color

in the list.
If you'd like an EIS study to run, please pick up from the latest studies.
If you want more general guidance about operational restrictions on observing with EIS, please check this page: Observing with EIS and the S-band Antenna
Available HOPs
The list of recommended EIS-centric HOPs.

Coming soon ...
create your own EIS study
If you really must....

Please start from "Where to start?" page. It contains information about EIS Science and useful user guides for EIS planning software.
---
Last Revised: 05-May-2011

Feedback and comments: webmaster